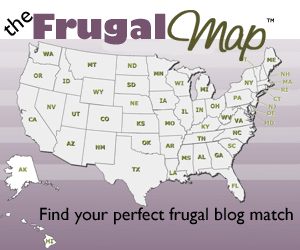 Just 2 days ago a reader emailed me to tell me she was moving from Birmingham, AL where this blog is based to Chicago and needed help finding blogs that do much like what Jessica and I do, except for the new stores she was around up in Chicago. She was of course sad to find there were no Publix stores there.
She is in luck, because today Bargain Briana has taken on the mammoth task of creating a state-by-state listing of frugal bloggers. Her creative directory, The Frugal Map, just became active today and you'll definitely want to stop by and check it out.
The Frugal Map was created to help readers find their perfect blog match. Whether the perfect blog match is by category, store, location, there is a blog out there for your particular style.
At launch, there are 35 bloggers on the map. I would love to get the map filled out as much as possible with bloggers all over the country! If you aren't included on the map, please read submission guidelines along with the form here.

The Frugal Map has some unique features:
Frugal Map Function: Allows users to find a blogger near their location in an interactive map format.
Search Function: Allows users to search multiple blogs across the Frugal Map Network.
Hottest Deal RSS Feed: Gives users the most recent hot deals from the bloggers in the Frugal Map Network.
Specific Store Landing Pages: Allows users a one stop resource for for store deals including blogger store deal links, resources, and FAQ for the particular store.
Specific Blogger Landing Pages: Allows users to read more about their favorite blogs and connect with them via Twitter, Facebook, RSS, and specific store deal links.
Embeddable iFrame: Embed The Frugal Map on your blog as a resource for your readers.
Thanks so much for undertaking this huge project, Briana! I hope this helps many of our readers.
Related posts: